Units Manager
View video sample on youtube.com --- View sample on Flash video
In this option you can create - edit or remove unit types.

The units can be: For example: Grams, Kilograms, Spoon. etc

NOT BE REMOVE UNITS ARE ASSIGNED TO RECIPES. To delete a unit that is assigned to recipes, you must first delete the recipes, and then you can remove the unit.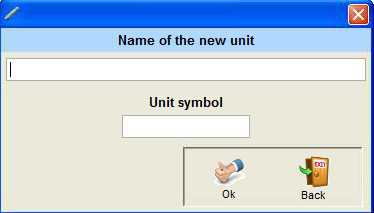 To create an unit, we need to enter the name or description of this. Additional a symbol.